Fitzmar Dobermans
Who is Fitzmar?
My name is Mary Jo Ansel, and I am Fitzmar Dobermans of SE Pennsylvania. The name "Fitzmar" comes from my maiden name and my first name. My father was an animal lover and the name "Fitzmar" is a nod to my life long love of animals. I am a member of the Doberman Pinscher Club of America, and the Quaker City Doberman Pinscher Club. I am involved in conformation showing, Obedience & Rally, and am a supporter of my local Doberman Rescue.
I've owned Dobermans since 1993, and got involved in showing them in 2003. My first litter was born in 2007, and I have currently bred a total of 3 litters with AKC Champions in each litter. Dobermans are not a business for me: they are my hobby. I live in a suburban neighborhood with my husband and children, and do not have a "kennel". My dogs live as family pets before during and after their show career, and I keep a maximum of 3 personal Dobermans.
Fitzmar News
August 5, 2016: I have deleted my website, and am currently working on redoing it - please be patient!
2016: I am not currently breeding. Please go to www.dpca.org to look for local breeders.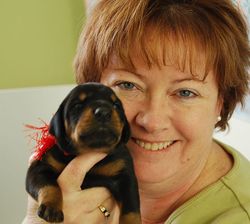 All photos in this website, Fitzmar Dobermans, are owned by Mary Jo Ansel and I do NOT give permission to copy or use them in any way.